Everyone at this stage in their lives has seen Steven Spielbergs epic motion picture "Indiana Jones the last crusade". He goes in search of the lost Holy Grail the cup Jesus drank from at the last supper. He stumbles upon a knight whose hundreds of years old (presumably because he drank from the Holy Grail) that is guarding the grail. The bad guys not too far behind desire it also as it is said those who drink from it will gain immortality.

The final scene arrives in which they are presented with numerous chalices to choose from as possibly being the one that Christ drank from. The knight advises them to "choose wisely" because the authentic one that brings life. . . well. . . the incorrect one will lead to death. Yup. . . you guessed it, the bad guy chooses the most costly cup of gold appearance and see's in Christ a reflection of himself, that is, someone who was a lover of luxury.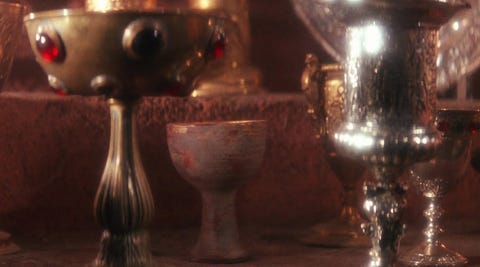 Indiana then takes his turn and amidst all the gold and silver spots a humble wooden cup and he see's that as a the "cup of a carpenter". He drinks from it and the knight says, "You chose wisely".

This scene shows us how a soul full of darkness cannot tell the difference. A soul immersed in sin and unspiritual cannot see Christ because "The eye is the lamp of the body. If your eyes are healthy, your whole body will be full of light. But if your eyes are unhealthy, your whole body will be full of darkness. If then the light within you is darkness, how great is that darkness! Matthew:6:22-24


We shouldn't be surprised then, if we've chosen a life of luxury and one that excludes Christ or even manifests the wrong idea of him, things go wrongly for us because such a life leads to death of the soul. If, however we choose the poor path and to live in the shadows of this world to await the light of the next, then, when Christ sees us at the end of our days, like the knight in the movie will he say to us, "You chose wisely"? I'd like to think so.

Until we get rid of the old world within us that is full of self-love, egoism and love of luxury, we will forever see in Christ a reflection of ourselves, that is to say, we see a lover of luxury. The reason for this is because we like to see people as we are and through this ignorant approach always fall short of the truth and suffer the consequences.

Let us not be that person, let us choose wisely.

Pax



We shouldn't be surprised then, if we've chosen a life of luxury and one that excludes Christ or even manifests the wrong idea of him, things go wrongly for us because such a life leads to death of the soul. If, however we choose the poor path and to live in the shadows of this world to await the light of the next, then, when Christ sees us at the end of our days, like the knight in the movie will he say to us, "You chose wisely"? I'd like to think so.

Until we get rid of the old world within us that is full of self-love, egoism and love of luxury, we will forever see in Christ a reflection of ourselves, that is to say, we see a lover of luxury. The reason for this is because we like to see people as we are and through this ignorant approach always fall short of the truth and suffer the consequences.

Let us not be that person, let us choose wisely.

Pax