As someone who grew up in the late 80's and 90's, I can think of at least one hairstyle I deeply regret. Eminem was all the rage in the late 90's. I went to a friends house where we decided it would be a good idea to bleach my hair. After having some fun in the bathroom and lots of laughs, my hair came out all patchy.
I literally looked like a rotten banana. My sister in-law tried to rescue it by changing it back to it's original color. Sadly the result was a hair color that turned all different colors under natural sunlight. I wen't from looking like a rotten banana, to a multi-colored rainbow.
MEN…YOU'RE FIRST
The Mullet
Eminem Shaved And Bleached
Here is how you're supposed to do it. Unfortunately I'm still not sure it looks cool.
The Fringe
We all remember that amazing movie, but also those long fringes. How on earth did he manage to not crash his scrambler with that fringe?


Highlighted Tips
We all remember at least one person who tried this. Confession time, I DID.


OK…LADIES THE LAUGHTER ENDS HERE
The Britney Spears Pigtails
Oops…I did it again…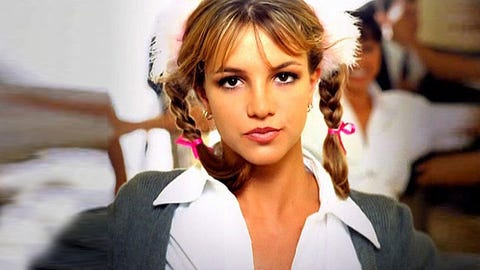 Big…Big…Hair
Curly Madonna
Nineties Hair Jewelry
Do you have any embarrassing hair stories you'd like to share with us? Let us know in the comments.