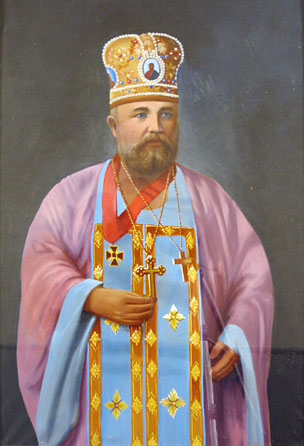 I had been having a discussion with an Eastern Catholic priest today. Towards the end, he told me about St.Alexis Toth. Having discovered his full story I realized that the encounter was no mistake. This Saint was approaching me for some reason which we will explore having first told his story.

Alexis was an Eastern Catholic Hierarch born in 1856 in Slovakia. In the 1870s he was called at the request of the Catholics in America to come and serve as their eastern priest.

Upon arrival, he fixed his Greek Catholic parish up and helped its finances. He never drew a salary for himself. He had no Bishop over him so he had no choice but to engage with the local Roman Catholic Archbishop John Ireland. John was extremely hostile to ethnic churches and groups and wanted to disband them making them Roman Catholic.

The two got into a heated argument where Archbishop John actually questioned the Eastern Hierarchs priestly credentials. Both lost their temper and Alexis walked out. He wrote a letter to his Bishop in Hungary looking for advice on how to proceed but reportedly never got a reply.

After some time had passed he was called to go back to Europe and for his parish people to dissolve into Roman Catholic parishes. Not wanting to abandon his people Alexis sought the council of the Russian Orthodox Church in San Francisco. He was formally received into the Orthodox Church in 1892.

By 1909 163 Eastern Catholic parishes had become Orthodox and thousands left the Catholic Church to join him. He is considered the Father of the OCA (Orthodox Church in America). He was canonized by the Russian Orthodox Church on May 29th 1994.

What took me by surprise had been the nature in which our stories were similar. Like Alexis, I had an argument (not heated) with the Bishop via e-mail regarding my situation with the diaconate. That Sunday I decided to attend the Greek Orthodox Church and decided to become Greek Orthodox with Holy Chrismation two weeks away. Like Alexis, with the severed trust in the local Catholic clergy, I felt like I'd have nowhere else to go.

I feel now that this saint is approaching me. For what reason, I don't know exactly. However, I will pray to him asking him to help me understand better Gods plan for my life. Like Alexis, I too have become annoyed at my treatment and want to leave for the Orthodox Church. And although my desire to be Orthodox is one simmering for 13 years, my recent fracas with the local Bishop had been the straw that broke the camels back. I have been pondering whether or not I'm leaving because I'm annoyed and if that is a good motive.

Either Alexis is approaching me and saying, "Don't be like me and run off because you were annoyed". OR….He's approaching me and saying. . . COME ON IN MY CHILD, THE GRASS IS GREENER ON THE OTHER SIDE. HAHAHAHA.

As for Archbishop John Ireland. . . I don't think Bishops Greek Orthodox or Catholics really understand the problems they can cause for those under their care. Whether you look at it from an Orthodox or Catholic perspective, there's a reason why a Judgment day is needed.